Keith Seeber,
Board President
---
---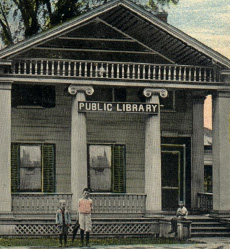 Fort Plain Free Library Board President Keith Seeber brings carpentry and construction skills to the library. The chairman of the board's Building and Grounds Committee, the longtime town of Minden resident said he is interested in local history and in the building itself.
A library board member for more than five years, Mr. Seeber also serves as one of three Montgomery County representatives to the Mohawk Valley Library System's Board of Trustees.
Rodney Strait,
Vice-President
---
---
Libraries are an instrumental part of the community, and education is the heart of democracy. As Franklin D. Roosevelt stated, "Libraries are … essential to the functioning of a democratic society…. Libraries are the great symbols of the freedom of the mind."
It is for those reasons that retired principal and teacher Rodney Strait is involved with the Fort Plain Free Library's Board of Trustees. A member of the library's Building and Grounds, Construction, and Finance Committees, Mr. Strait is currently the board vice president and has served several terms.
He's also a member of many professional organizations and has been active in many community projects and organizations, serving as a Fort Plain village trustee since 2001. He is presently serving as the deputy mayor of the village.
A graduate of SUNY Cortland, NY, Strait earned his School Administrator/Supervisor certificate from the College of St. Rose. The longtime Fort Plain resident brings budget-making, leadership, and finance-related skills to the table.
Having raised two children in the community that he and his wife have called home for 40-plus years, Mr. Strait said, "It's great place to live and has a great library that's getting better all the time."
Nancy Kranich, former president of the American Library Association, has noted that libraries "exist to ensure the free flow of information for all people. They provide the resources the public needs to be well informed and to participate fully and actively in every aspect of our society."
Those are sentiments embraced by Mr. Strait, whose his long-term goals for the library include ensuring its continued growth.
John Kirkpatrick,
Treasurer
---
---
John Kirkpatrick's roots run deep in his native Fort Plain. A graduate of Canisius College in Buffalo, NY, and Albany Law School where he received a Juris Doctor degree, Mr. Kirkpatrick is an attorney in private practice with the Fort Plain law firm of Kirkpatrick & Kirkpatrick, P.C. With the exception of the years when he was obtaining his degrees, he has resided in Fort Plain his entire life.
In a professional capacity, he has served as the attorney for the village of Fort Plain since 1978 and is also the attorney for the town of Minden. He also serves on a number of local charitable foundations.
He is president of the George Duffy Foundation, which provides scholarships for local graduates pursuing their education in medical fields. He's also a trustee of both The Adam & Nellie Horn Foundation and of the William & Vina B. Yerdon Foundation, which provide awards to 501 (c) (3) organizations in the local area to fund worthy projects.
Mr. Kirkpatrick has been on the board of trustees for the Fort Plain Free Library for over 20 years and has performed duties as its treasurer since shortly after joining the board. Of his involvement, he said, "Having young grandchildren has me much more aware of the importance of libraries, not just for books, but for the activities and socialization they provide for young children, which introduces them to the library and hopefully makes them readers and eager learners in the future."
Eileen Chambers,
Secretary
---
---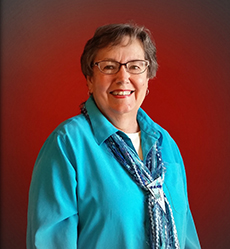 A background in history and an ability to develop displays of historical interest are among the strengths that retired educator Eileen Chambers brings to the Fort Plain Free Library Board of Trustees.
Involved with the library board for about eight years, Ms. Chambers serves as the board secretary. Current committee assignments include the Personnel Committee and the Local History Committee, of which she is chairman. In connection with the latter, she has responsibility for the library's Clinton Liberal Institute collection and has conducted two history programs.
Ms. Chambers has also performed administrative functions at the facility, securing a grant for a new roof in 2012. Following the unexpected resignation of long-time Director Laura Flynn the prior year, Ms. Chambers helped staff the circulation desk, administering the facility until Whitney Hubbard filled the director's post.
A lifelong resident of Fort Plain, Ms. Chambers graduated from Buffalo's Daemen College with a bachelor's degree in History and Government. Over the course of 33 years, she taught social studies at St. Mary's Academy in Little Falls and Dolgeville Central School in upstate New York.
Following her retirement, Ms. Chambers stepped into the role of Fort Plain Village Historian. She is a member of the Central Mohawk Valley Lions Club and has been involved with the Fort Plain Community Activity Council.
Ms. Chambers said, "I wanted to become more involved in giving back to the community where I have lived my entire life."
She also wanted to follow in the footsteps of her mother, who served on the library's board of trustees for many years.
When asked what she'd like to see happen in the library's future, Ms. Chambers said that she would like to see the completion of all three phases of the building project. Currently, the facility is undergoing Phase I construction, including the rebuilding of the teen room that was extensively damaged during 2013 flooding of the village.
Thomas Armitstead,
Board Trustee
---
---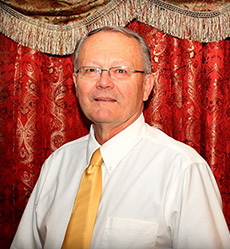 Veterinarian Thomas Armitstead brings his business acumen and networking skills to the table as a member of the Fort Plain Free Library Board of Trustees. A local native and ongoing library supporter, Dr. Armitstead grew up on a dairy farm in the Fort Plain area, earning a degree at Cornell University College of Veterinary Medicine. He completed his internship at Colorado State University.
A first-term trustee and member of the Building and Grounds Committee, Dr. Armitstead said, "Having run a business of my own for 35 years and 45 years of working with the public, I feel I can add to the existing strengths of the Fort Plain Library."
Among the goals that he would like to see realized include completion of the building project, which includes ongoing Phase I construction to address 2013 flood damage and other needs. Proposed Phase II and Phase III work would further expand and improve the facility.
He would also like to add to the strength of programming instituted by the library staff.
Dr. Armitstead said, "Fort Plain Free Library has done some amazing things to help the Fort Plain community. It is an honor to be associated with such an organization."
In addition to his involvement with the library, he is a member of the Central Mohawk Valley Lions Club and chairperson of the Variety Show Committee. Professional affiliations include membership in the New York State Veterinary Medical Society and the American Veterinary Medical Association.
An area resident for more than 40 years, Dr. Armitstead has also lived in Schoharie and Cayuga counties in upstate New York. He owned his own veterinary practice for 38 years.
Susanne Manclow,
Board Trustee
---
---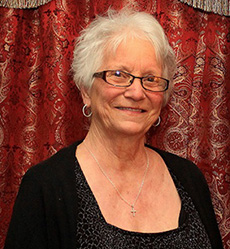 Just a cog in a well-greased wheel. That's how Fort Plain Free Library Trustee Susanne Manclow described her role as a member of the Fort Plain Free Library's Board of Trustees. She said, "I'm just a part of a cohesive and forward-thinking board. There's a lot of respect for individual members, and it's a pleasure to work with them. I'm here when we do our book sales. I'm helping with the wine gala in April. You tell me what to do, and I will do it."
A longtime library volunteer, Mrs. Manclow has been involved with the library board for about four years. She is a member of Nominating, Policy, and Local History Committees.
She is involved with the library, she said, because it is "such an important and vibrant part of our community and has become even more so. It's exciting to be part of it.
"I'm also enthusiastic about the progress we're making with the building project," she continued. "The construction will enhance the library and the possibilities of what we can offer. It'll provide a spacious, inviting, and comfortable environment."
In the future Mrs. Manclow would like to continue to support the initiatives fostered by Director Whitney Hubbard. She said, "What has happened to this library with Whitney has been truly inspirational. She has energy, knowledge, ideas. No project is too daunting for her to jump into and bring to fruition."
A "happy transplant" from Floral Park, Long Island, Mrs. Manclow said she moved to Fort Plain about 45 years ago. "My husband wanted his kids to grow up in a country atmosphere like what we grew up with when we were kids, so we packed up and moved here. Other than leaving my family, it was a good thing," she said.
Now retired, Mrs. Manclow worked 25 years as a customer service representative for a local insurance agency.
In addition to her involvement with the library, Mrs. Manclow over the years has been involved with the Business and Professional Women's Club and the Fort Plain Methodist Church. Currently, she acts as the treasurer of The Friends of Fort Plain and is involved with the renovation of the Diefendorf Hall Cultural Center at 47 Main Street. She is also a volunteer for other local civic projects.
Sally-Jean Taylor,
Board Trustee
---
---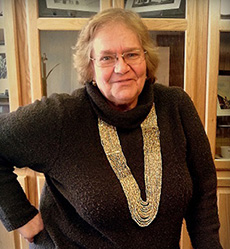 For 60 years, libraries have been the second home of Fort Plain Free Library Trustee Sally-Jean Taylor. With no money for books as a youngster, the northern New Jersey native recalled going to the library with her siblings every week, buying her first book by author Albert Payson Terhune when she was about 10 years old.
She recalled, "I wrote to a publisher to see if they'd accept a handwritten manuscript. They wrote me back. I loved his writing."
A Mohawk Valley resident for the past 50 years, Mrs. Taylor worked in the local publishing industry in ad design and editorial layout, serving as the editor of several trade publications and the weekly Mohawk Valley Democrat newspaper.
Now retired, Mrs. Taylor has been a library trustee for about eight years. During that time, she has served as a library volunteer and helped with programming. She is also the author of a newspaper column for the library titled "Tidbits and Tidings."
As a member of the library board of trustees, Mrs. Taylor brings ideas and suggestions to the table and provides many of the evening workshops.
For the future, she would like to see the library on solid financial grounds.
Over the years she has participated in writing classes and attended arts workshops. She is a craftsman and pattern maker.